Saturday was opening day at Nickajack Farms and we headed out there. Before choosing this place to visit I inquired of my Facebook friends the pumpkin patches that they would recommend here in Ohio. Well, our part of Ohio. After some consideration we decided to take our kids to Nickajack Farms. I'll admit, the biggest reason was probably price. Some of the farms cost more. I think paying $9 per adult and $7 per child over 2 is pricey. Nickajack was $6.50 per person and included almost everything and if you didn't want to pay that, you could pay ala cart and just do what you wanted to. They also had the pumpkins, Indian corn, corn stalks and gourds as well. There were free things for the kids to do…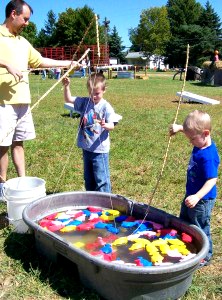 We decided to pay the $6.50 per person that included the corn stalk maze, the hay ride, discovery barn and the petting zoo. And because my bargain-eyed husband saw online (before we left) that a snack coupon was offered, we all got free drinks while we were there, our choice of the $1.00 value snack we were entitled to.  Not all the workers were aware of that offer though so it took some effort on hubby's part to get the facts to the right person. But it was opening day and we were there in the earlier part of it.
The Cornstalk Maze.
The cornstalk maze was a bit long for the little ones. To keep it interesting you're given a list of questions about the Wild West. The correct answer keeps you on the right path through the maze. The wrong answer sends you to a dead end. Thankfully, they also give you the correct answers when they give you the questions 😉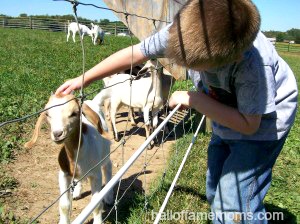 The Petting Zoo.
Now – at the time when we visited the petting zoo area it appeared the animals were somewhere between the stalls and the pasture. I wasn't sure what was going on and maybe didn't think to ask while we were up there. I think I heard that the workers had to bring the animals out of their stalls maybe for you to pet? We did walk through the stall area to reach the fenced in pasture. I know I saw some Llamas /or Alpacas from a distance but we never asked to be up close to them. We just walked to over to one of the fenced in areas and petted the goats like you see above.
Finally, we ended our visit with the half hour hay ride and a few fall picks…a pumpkin for Brendan, a gourd for Jack and a dry corn stalk (w/ corn on it) for me! They have pumpkins from .35cents (tiny ones) and up…a variety of gourds and other fall decor items. The kids have a place they can walk into and pick out a $2 pumpkin…but we opted for the cheaper ones 🙂
The Hay Ride.
Okay, when the tractor guys says its going to be bumpy…he means it! For real, you better stick that cell phone down deep in a pocket and tie your kids to the bench! Well, hang on to them anyways. I felt like I went airborne at at least one spot on the trip and believe me…I wasn't the only mom hanging on to her kid(s). LOL  The ride is a nice way to end the day and we had a nice breeze.
There was also a  playground up by the Discovery Barn area and several porta- pottys too.  All in all it was a nice adventure out there for our family. I would recommend visiting Nickajack Farms.
Subscribe here to get my updates by email or RSS!
The following two tabs change content below.
Owner/Editor
at
Hall of Fame Moms
Tracy writes about homeschooling and just about anything related to family life in Ohio here on the blog. Strong honest views will surface from time to time on topics related to truth, faith and freedom. **Check out my notebooks and Bible Memory Coloring Notebook workbooks for Adults & Teens by clicking my name.
Latest posts by Tracy Zdelar (see all)