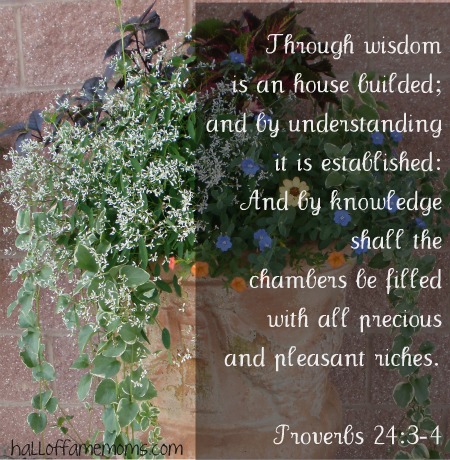 When I was pregnant with my first child I desperately wanted to be able to stay home and raise him. I did not want to put him in daycare. I remember scrubbing the tub one day, pregnant, crying about it just between me and God. Joel and I needed two incomes so how were we going to make it happen?
Long story short, I had to quit my job as a substitute teacher due to some high-risk pregnancy complications setting in and I've been home ever since!  To see our finances on paper *shudder*, last time I did, I believe showed that our situation was next to "impossible".  But God has made it possible. Its a financial struggle, but He keeps us floating along.
I became convinced that God is on the side of the mom who wants to stay home with her kids. That's not to say He isn't on the side of women who have to work outside of home too though! I just wanted to be clear about that 🙂 .

Does that mean it works like magic? No. Does that mean every mom who wants this can just quit her job and stay home? No. Single moms,  wives of disabled husbands, and so on will have unique challenges.  But I believe that for mom's who have a personal relationship with Christ and who desire to be home raising their kids instead of working an outside job that is keeping them from being there for their kids…that God can make it happen for you! He's doing it for us and I know He is making a way for others.

Now, I'm not God to know what his exact plan for every individual is but I do know that He tells us what His will is in the bible. Its up to us to accept it and believe it and live it. And that requires a good bit of faith! Which the Bible tells us that "without faith, it is impossible to please God"  Hebrews 11:6.
God's will is stated in scripture for you and I. However, His plan as to how His will will unfold for us as individuals will be different. Same will …different plans.

I do work. I work from home and have been working from home since my oldest (who is 6) was just a baby. I've done a number of things to earn a little extra income from home. Such as…
Selling antiques, old stuff, and clothing on Ebay

Selling the above at a flea market

Selling clothing and misc to  consignment stores

Selling maternity and child items through a twice a year local church sale

Teaching myself how to earn money online by blogging and affiliate marketing

My main source of extra income is doing part-time childcare for other working families.

AND, my husband sells parking and bottled water/or pop during the Pro Football Hall of Fame festivities since we live so close. Which I also blog about. The festival starts in about two or three weeks so you might want to

subscribe

to my email updates if you're interested in that.

I don't make a living at what I do it but I do make enough to help with the finances. I have also seen my earnings increase over the years.  And after all, its my husbands God-given responsibility to provide for our family and he does a great job at it…even taking on a second job at times.
But, making the "stay-at-home" thing work goes even deeper than "what can I do to make money".  I've found that part of making this work includes, for me, becoming savvy using coupons and rebate programs and taking advantage of freebies. Now I don't take advantage of everything that I become aware of but I have learned how to use these to my advantage.

I plan to share some tips on how I went about earning money from the ways I listed above. I hope you will subscribe for my email or RSS updates so you don't miss that post when it comes up. If you have any work-at-home questions for me please leave a comment and I'll get back with you. Thanks for reading today!
Don't forget, I also am featuring a WAHM (work-at-home mom) or Self-Employed Woman each week through the summer. I hope that what they are doing to help their families income might inspire some of you who are looking for opportunities as well 😉

The following two tabs change content below.
Owner/Editor
at
Hall of Fame Moms
Tracy writes about homeschooling and just about anything related to family life in Ohio here on the blog. Strong honest views will surface from time to time on topics related to truth, faith and freedom. **Check out my notebooks and Bible Memory Coloring Notebook workbooks for Adults & Teens by clicking my name.
Latest posts by Tracy Zdelar (see all)