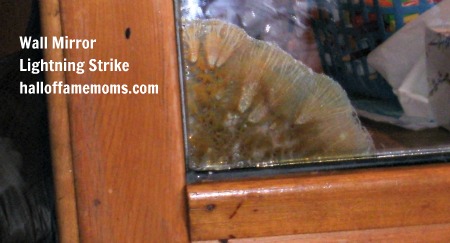 Well, the last week in and a half of my  sort-of  "lightning sabbatical from blogging" is coming to an end. I think the majority of my techy issues are solved. It quite possibly has taken me  2-3 times longer to do many of these things myself as I don't really know what I'm doing completely. All the time.
As the saying goes, I know enough to be dangerous!
So many good things have come out of this storm damage I can't share all of them with you but here's the short-end of what I think happened minus too much info about my thoughts regarding supernatural motives that may or may not be to blame.
It appears we were the only house on our street hit. The lucky ones.

Several hours after my radio show appearance we got that rain plus some lightning and it appears that lightning hit our house directly as evidenced by the dining room wall mirror. Also, when I asked the Time-Warner technician if the pole on our street was hit -he said the opposite happened. Our house sent the hit to their stuff.
Oops. I assure  you we didn't mean to.
"And we know that all things work together for good to them that love God, to them who are the called according to his purpose." Romans 8:28
The lightning took out our internet, killed our modem, messed up our router, toasted my main computer (which I had for about 2.5 yrs), ruined the internet access for our almost 10 yr old slow Dell computer (yes, the computer itself still works– amazing), and along with all that our phone was gone- as it was digital. My Netbook was all I had left that I used to access the online world and I couldn't use that till Time-Warner could come fix their part. That was Wednesday – TW told me the soonest they could come out was Sunday, but since we had no phone they had to come out within 24 hours.
Oh, but all our printers and monitors still work. Weird?
The next morning I called the electrician because our a/c wouldn't kick on and the breaker box tab for the furnace stayed tripped. Their office told me they couldn't come out till Tuesday!  When I asked for a referral to another electrician I was told they would send someone out.
Note to self: Always ask for a referral if your first choice of service provider can't deliver in a timely manner. hehe

Everybody:  the T-W guy, the electrician, the furnace guy- all made it to our house and had their work done before 12:30- lunch time.
I think that's a God-thing.  My opinion.
"We must meet the uncertainties of this world with the certainty of the world to come." – A.W. Tozer
You may be rolling your eyes wondering what a crack-pot I must be. Well, because I know I am a sinner saved by grace, I admit- my pot IS cracked  but this I know applies to me and to you if you are a born-again Christian as Jesus says we must be according to John 3:3 :
"For we wrestle not against flesh and blood, but against principalities, against powers, against the rulers of the darkness of this world, against spiritual wickedness in high places." Ephesians 6:12
Think about it. Its true.
The next time something "bad" happens to you or you feel forsaken, dear Christian- consider Ephesians 6:12.  If  you're walking with God in obedience, you're not going to have an easy time all the time. So, be encouraged in your trials! Other reasons for your hard times can be God's chastening- which is actually an act of love. God only chastens his own kids.
  "Behold, happy is the man whom God correcteth: therefore despise not thou the chastening of the Almighty:" Job 5:17

 **Sharing at these link-ups: WomenLivingWell .
The following two tabs change content below.
Owner/Editor
at
Hall of Fame Moms
Tracy writes about homeschooling and just about anything related to family life in Ohio here on the blog. Strong honest views will surface from time to time on topics related to truth, faith and freedom. **Check out my notebooks and Bible Memory Coloring Notebook workbooks for Adults & Teens by clicking my name.
Latest posts by Tracy Zdelar (see all)