Call me a party-pooper but I'm a practical gal. I really appreciate the kitchen gadgets that make life easier and I love simple comforts. In fact, this year the only thing I can think of that I'd really like get for Christmas is a sewing machine, which I will need to learn to use. I want to be more handy with making my own things for the house.  Beyond that a gift card to Starbucks is right up my alley – my husband usually gets me one of those. I like the pricey coffee drinks there which means I can only afford those on an occasional basis. But I digress.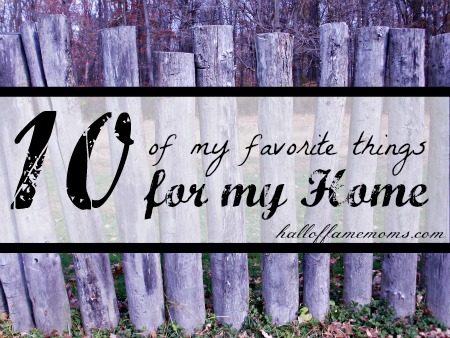 Being the practical girl I am I thought I'd share 10 of my favorite things for my home. All of the following are currently used in my home, some I've had for nearly 10 years! I'm just sharing them in random order.
Please note, not all ten are cooking related, though you may begin to think so!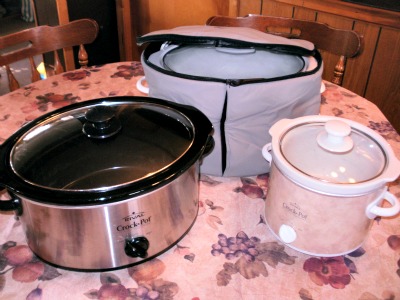 First up, my Rival Crock Pots and GE slow cooker. These are a mom's best friend, aren't they? I've been known to rock two crock's at the same time simmering with chili or taco soup. The two big crockpots were wedding gifts 10 years ago. The smaller one I asked for Christmas one year- a gift!   Find a "cook & carry" Crock-Pot on Amazon.
Next up, I like cookware with "thermal" cover/carrying cases. My GE slow cooker and (4 pc) Pyrex casserole dish carrier came with these. This is how I've toted my fresh baked corn casserole to a family gathering. I believe this was a wedding gift too.  See a Pyrex Portable 4-Piece Set (similar to mine) on Amazon.
Life changing- well for toasted cheese anyways! This is my Rival Electric Skillet. Can I tell you how wonderful this thing is? Its the only way I make pancakes, I've made these Pumpkin Molasses French Toast Sticks with it and Beef Stroganoff.  Its also great for cooking bacon and eggs at the same time. This was a gift too.
I've had mine for almost 10 years, but you can find one similar on Amazon here:  Rival 12-by-16-Inch Oblong Electric Skillet with Removable Pan, Black
. Note: My pan is not removeable.
Before I had my first child I tried to get a direct sales business going with Pampered Chef. Well, I was so nauseated while pregnant that doing cooking shows was like a form of torture. I didn't last long, but I sure appreciate the deals on the cookware. I collected most of my Pampered Chef items way back in 2003-2004. The ones pictured here are among my most used items.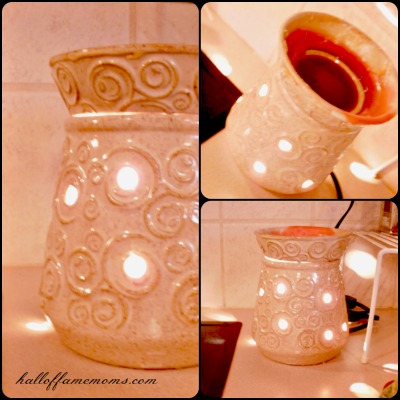 I love LOVE warm scents. This is my favorite tart warmer of all I own and I regularly use it. Its a Scentsy tart warmer and I've had it for about three or four years now. Scentsy scents are strong and I recommend them. The gal I got this from still sells them.
Check out Andrena Wallace's website Without Wicks to see all the great Scentsy warmers and scented wax bars.  Tell her I sent ya!
 Can you guess what's next?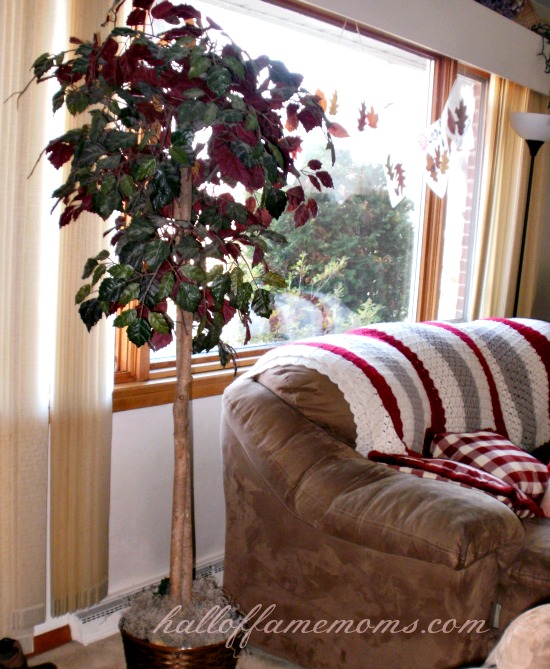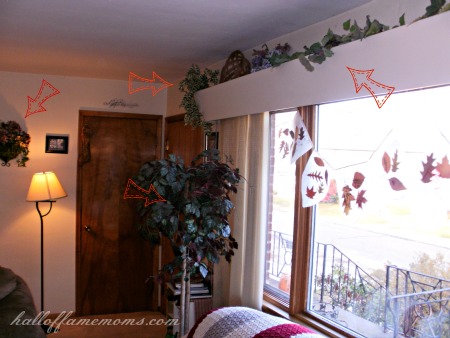 Okay, fake foliage. Maybe it doesn't sound so appealing but it is SO appealing – and can be darn-right expensive! I've been fortunate to find large pieces for cheap prices by buying second hand at stores or at garage sales. The only thing better than a nice piece of fake foliage is …
 Fake foliage with lights!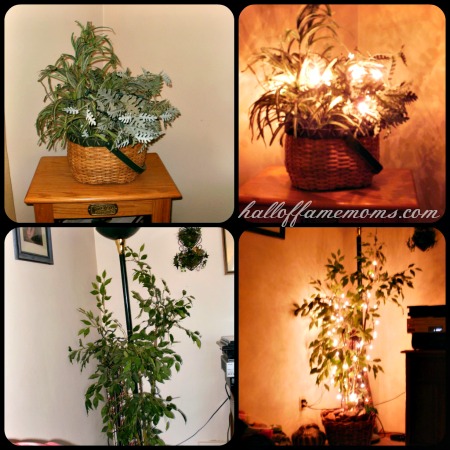 Moving right along.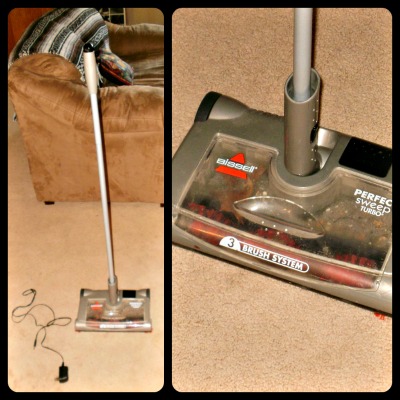 My Bissell Perfect Sweep Turbo is easy for the kids to use and great for quick carpet clean up! Love not having to drag out the "big" sweeper for small messes.  Find a BISSELL Perfect Sweep Turbo Cordless Rechargeable Sweeper on Amazon.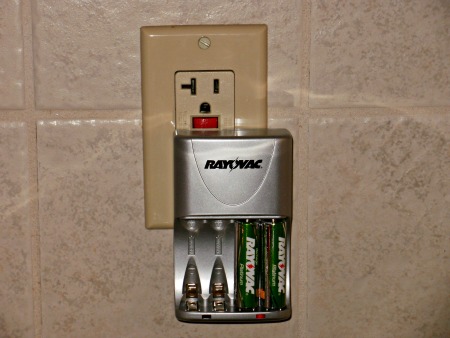 I also chose my Rayovac rechargeable batteries and charger. I've had this charger for maybe two years now and am still using the same batteries plus I've added new rechargeable batteries to our originals. This charger charges AA and AAA. It just makes sense to me to do go with more rechargeables.
I will mention that I've found my older Rayovac Platinum AA batteries (dark green with silver stripe 2100 mAh not pictured) last longer than my newer bought Rayovac Platinum silver with green stripe 2000 mAh rechargeables. I don't know what the mAh numbers refer to but I will be looking for the 2100 mAh next time I'm buying rechargeable Rayovac batteries.
Rayovac Platinum LSD Charger with 2 AA and 2 AAA NiMH Trilingual on Amazon.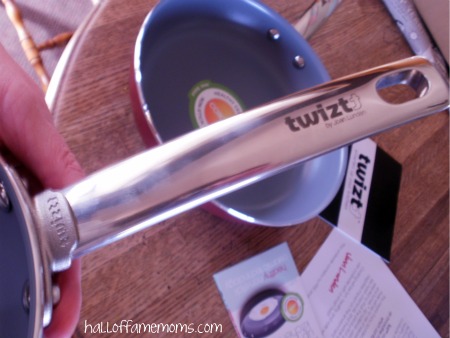 And my last favorite to share would be my Joan Lunden Twizt frying pans. You can see a video of me using them at that link. These are a "better for you" brand of pan that you can also read about at that post.
 …………………………………………
*I have used my Amazon affiliate link in this post. Opinions are my own. Sharing this post at these linky parties: Frugal Girls .
The following two tabs change content below.
Owner/Editor
at
Hall of Fame Moms
Tracy writes about homeschooling and just about anything related to family life in Ohio here on the blog. Strong honest views will surface from time to time on topics related to truth, faith and freedom. **Check out my notebooks and Bible Memory Coloring Notebook workbooks for Adults & Teens by clicking my name.
Latest posts by Tracy Zdelar (see all)