How I'm using a Border's store floor- stand to organize my homeschool room.
As you may know,  Border's bookstores are shutting down. We recently found this floor display umbrella stand fixture for sale for $25. It was one of the least expensive things like that that I thought I could use to help me organize my homeschool stuff. My husband wasn't so sure but he let me buy it. I'd say it fits great in the space I have (which isn't much!).
Its an odd and unique at the same time. It has thin places where I can slide in a stack of paper and the side hooks are adjustable. I hang and stack small and big things on it. Pretty nifty, huh?! Have you given anything used or old a new purpose (more tips)?
See the post I did shortly before this one sharing my tip for that covered rack you see in my room.
By the way, the Lego container is holding coloring books. Can we say "re-pur-pose"

!
*You can follow my blog by subscribing here or on Facebook.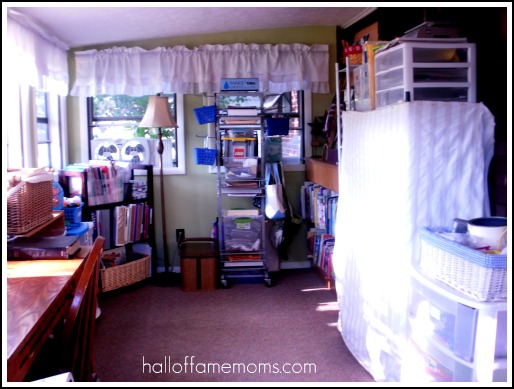 *Also sharing at A Wise Woman's link up and Mom's the Word link up, Dittle Dattle's link up and Raising Homemakers and Organizing Made Fun.
The following two tabs change content below.
Owner/Editor
at
Hall of Fame Moms
Trying to keep the main thing, the main thing - in the midst of my busy life. I work from home and as a Classical Conversations tutor so I can stay at home and homeschool my boys. I also write for free coffee and use these :) - alot!
Latest posts by Tracy Zdelar (see all)
Categories