One of the top highlights of our trip to Hutchinson Island, Florida was being so near an area where a treasure carrying fleet of Spanish ships (about 11) sunk due to a hurricane. To my knowledge, only about half of them have been found. People have found treasure wash up on the beach and you can treasure hunt out in the ocean through a company who conducts such outings.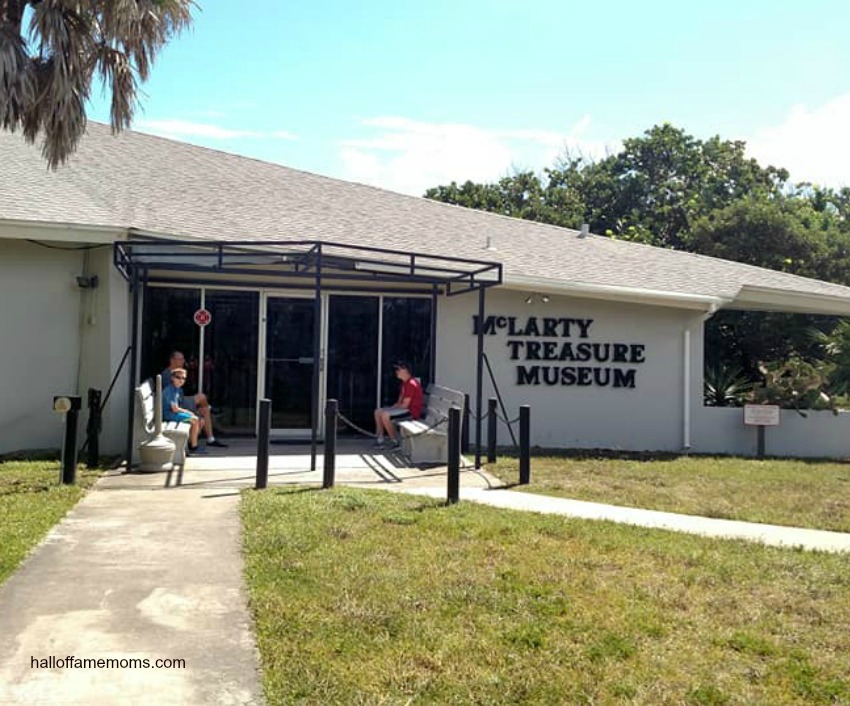 And, it just so happens that last year I bought my first metal detector – sort of a beginner's kind. It's certainly not a high end, pricey one with lots of bells and whistles. I really didn't have time to do much metal detecting on our trip since it was a family vacation. All ll I found with it was some chewed up aluminum (?) can pieces.
The McLarty Treasure Museum features the history of this very spot where sunken ship survivors set up camp.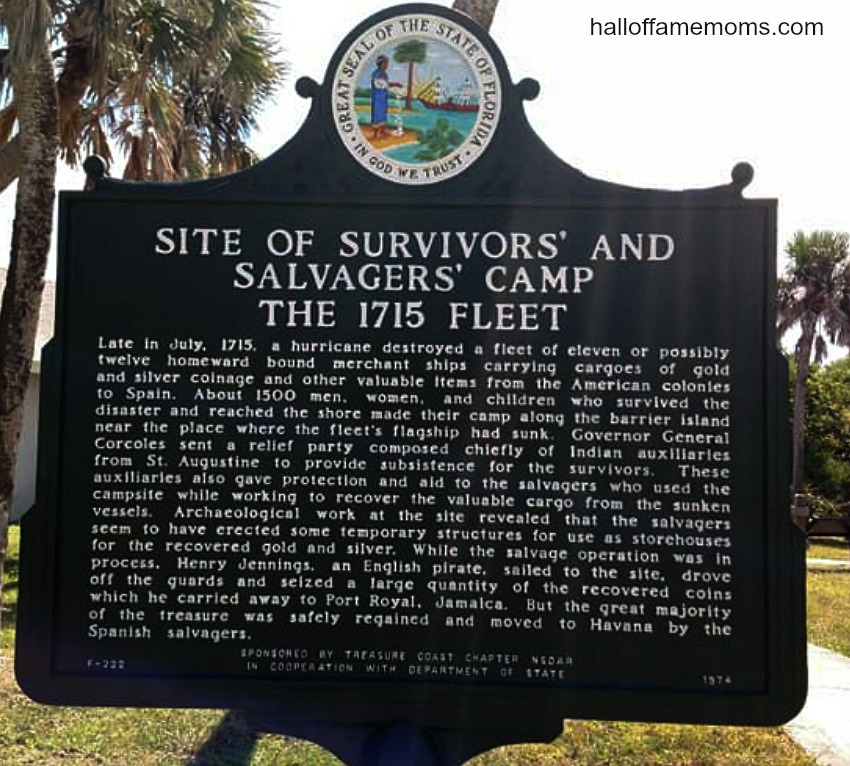 Site of the Survivors' and Salvagers' Camp The 1715 Fleet:
"Late in July, 1715 a hurricane destroyed a fleet of eleven or possibly twelve homeward bound merchant ships carrying cargoes of gold and silver coinage another valuable items from the American colonies to Spain. About 1500 men, women, and children who survived the disaster and reached the shore made their camp along the barrier island near the place where the fleet's flagship had sunk.
Governor General Corcoles sent a relief party composed chiefly of Indian auxiliaries from St. Augustine to provide subsistence for the survivors. These auxiliaries also gave protection and aid to the salvagers who used the campsite while working to recover the valuable cargo from the sunken vessels. Archaeological work at the site revealed that the salvagers seem to have erected some temporary structures for users storehouses for the recovered gold and silver.
While the salvage operation was in process, Henry Jennings, an English pirate, sailed tot he site, drove off the guards and seized a large quantity of the recovered coins which he carried away to Port Royal, Jamaica. But the great majority of the treasure was safely regained and moved to Havana by the Spanish salvagers."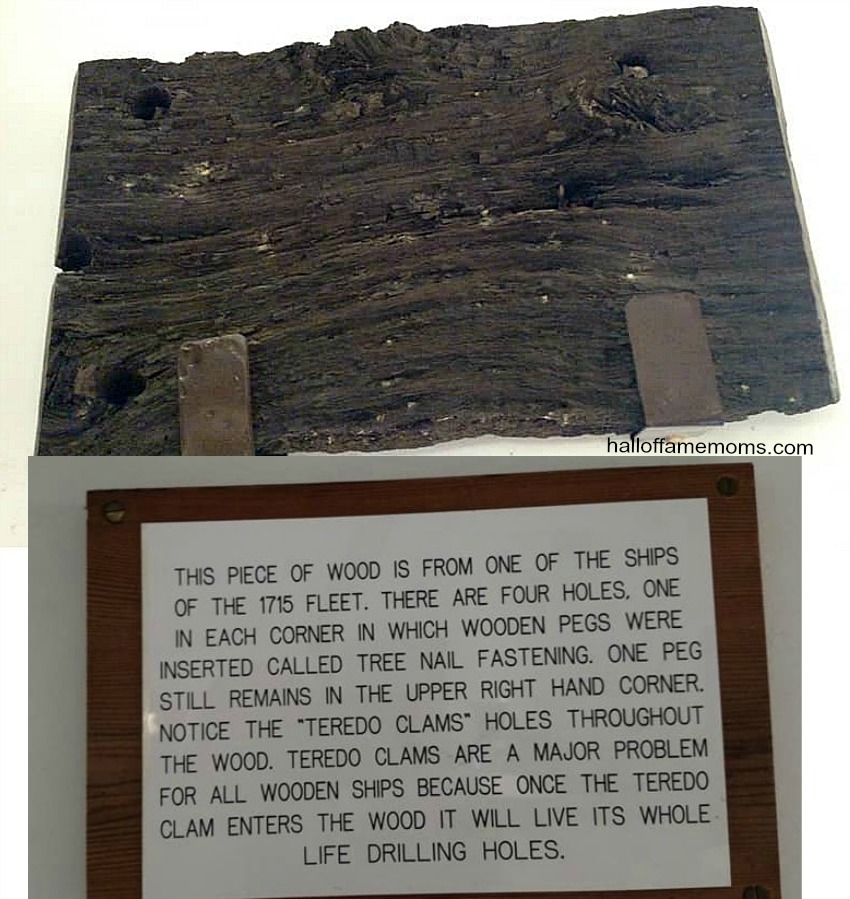 The plaque above says this about that wood plank pictured: "This piece of wood is from one of the ships of the 1715 fleet. There are four holes, one in each corner in which wooden pegs were inserted called tree nail fastening. One peg still remains in the upper right hand corner. Notice the "teredo clams" holes throughout the wood. Teredo clams are a major problem for all wooden ships because once the teredo clam enters the wood it will live its whole life drilling holes."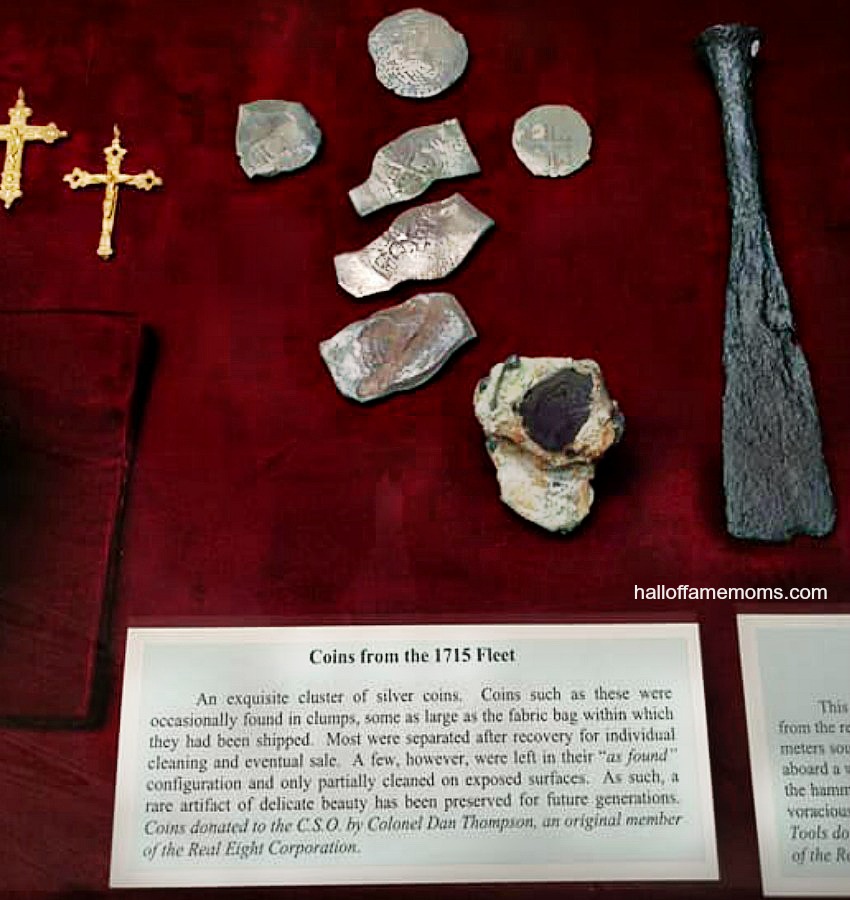 Coins from the 1715 Fleet. The image didn't come out so well with editing. Here's what that informational piece says:
"An exquisite cluster of silver coins. Coins such as these were occasionally found in clumps, some as large as the fabric bag within which they had been shipped. Most were separated after recovery for individual cleaning and eventual sale. A few, however, were left in their "as found" configuration and only partially cleaned on exposed surfaces. As such, a rare artifact of delicate beauty has been preserved for future generations. Coins donated to the C.S.O. by Colonel Dan Thompson, an original member of the Real Eight Corporation."
I will add that I found out not all of the valuable relics (such as some of the coins in a different display) were the authentic ones. Some are replicas. The museum was robbed or at least there was an attempted robbery some time ago.
This is just a sample of what is available to see inside the McLarty Treasure Museum in Vero Beach, Florida which is not too far from the Mel Fisher Museum. You are not allowed to keep treasures found on the beach at this location I was told. I believe this is a protected state park. They do keep a binder with pictures and stories of people who find do find treasures from different beach parts where you are allowed to keep what washes up onshore. This IS the treasure coast, after all.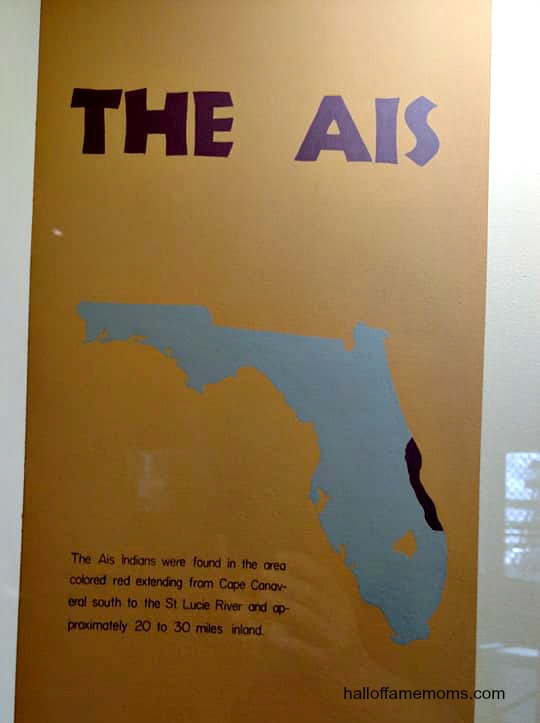 The Ais Indians in Florida – McLarty Treasure Museum Florida History.
The paragraph on the image says:
"The Ais Indians were found in the area colored red extending from Cape Canaveral south to the St. Lucie River and approximately 20-30 miles inland."
If you have time grab your metal detector and some good sand sifting equipment and do some treasure hunting. You just find something hundreds of years old and awesome!
Visit the McLarty Treasure Museum Facebook Page for more information on this small interesting state museum. Admission was $2 per person when we visited.
See the other posts in this series…..
Part 1 – Our Long Drive to SE Florida thanks to Hurricane Florence
Part 2 – Our Condo and the many Thirty-one bags we took to Florida
Part 3 – Visiting the McLarty Treasure Museum in Vero Beach, FL
Part 4 – Our ASTC membership got us in free: South Florida Science Center & Aquarium
The following two tabs change content below.
Owner/Editor
at
Hall of Fame Moms
Tracy writes about homeschooling and just about anything related to family life in Ohio here on the blog. Strong honest views will surface from time to time on topics related to truth, faith and freedom. **Check out my notebooks and Bible Memory Coloring Notebook workbooks for Adults & Teens by clicking my name.
Latest posts by Tracy Zdelar (see all)