(Note: I may earn a commission if purchases are made through some of the links in this post. See my disclosure here.)
If you live in Ohio your child needs to learn history about the state. Sounds boring, right? It doesn't have to be!
Not only have I lived in Ohio most of my life, I also write about things to do in Ohio quite a bit.
As a member of the iHomeschool Network, I and many others are putting together a long list of 100 Things. Each iHN blogger is picking a different topic. I'll have a link to their lists at the end of this post. I am using my affiliate links in this post and may earn a few cents if a purchase is made through them but at no cost to you. This helps me buy homeschool supplies and cover the cost of this blog. Thank you for your support.
100 Ways to Learn about & Explore Ohio & it's History County by County
I have chosen to cover 100 Ways to Learn about and Explore Ohio. This post will also work out to serve as a guide to exploring Ohio county by county and I plan to add to it.

Whether you are a homeschooler looking for creative ways to teach your child(ren) the history of Ohio or a non-homeschooler looking for some hidden attractions you've not come across before, this post will serve you both!
Note: I plan to be adding to this list! You'll see there are SO many counties in Ohio and I won't have them all filled by the time the post goes live so go ahead and PIN or Bookmark this post as one of your Ohio history resources to check again and again!
Exploring Ohio County by County
I've listed all 88 counties in Ohio by region (northeast, southeast, central, northwest, southwest) and for some of them I just had to guess which region they belonged in.
While there are LOTS of fun and educational places to visit in Ohio (see how to get free or discounted science museum admission here) this list is primarily about finding places that emphasize exploring Ohio's own history both before and after becoming a state. However, I will be including some of those other places in this list. 
If I missed an awesome stop you feel belongs on this list PLEASE tell me about it in the comments. I may just add it to this post.
In the first section you'll find attractions listed by county.
In the second section you'll find educational teaching aids to find resources online and otherwise to use in your state history lesson planning. Let's go!
Ohio by Regions
Northeast Ohio Counties (14)
Ashtabula County
Columbiana County
Cuyahoga County
Erie County
Geauga County
Lake County
Lorain County
Mahoning County
Medina County
Portage County
Stark County
Summit County
Trumbull County
Wayne County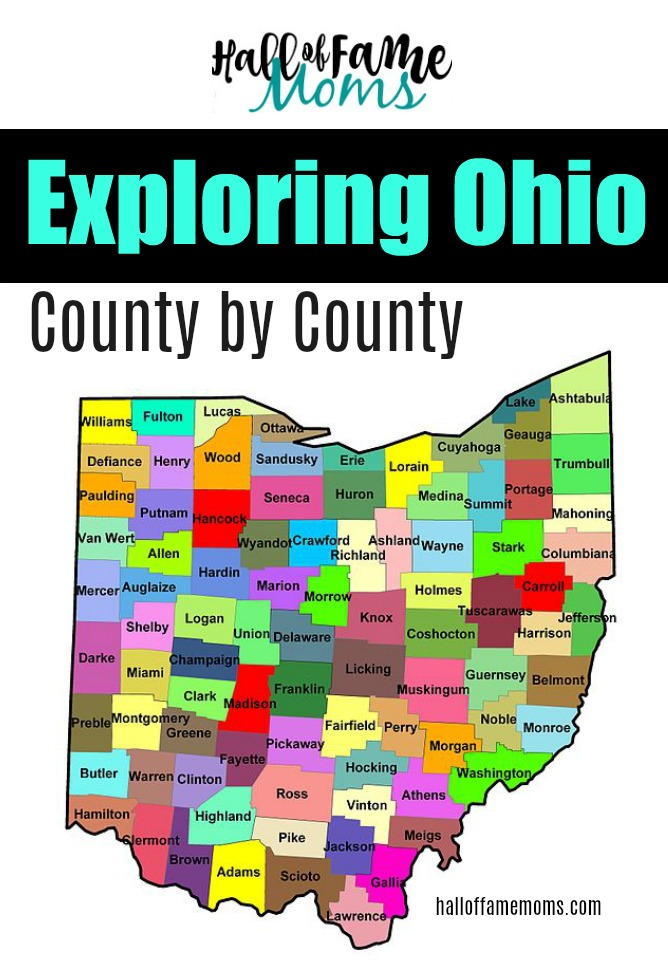 Southeast Ohio Counties
If you count below you'll see I've listed 21 counties in the southeastern region of Ohio. Again, I've taken liberty to guess at where some counties belong in my overall listing.
Athens County
Belmont County
Carroll County
Coshocton County
Fairfield County
Gallia county
Harrison County
Hocking County
Holmes County
Jackson County
Jefferson County
Lawrence County
Meigs County
Monroe County
Morgan County
Muskingum County
Noble County
Perry County
Tuscarawas County
Vinton County
Washington County
Central Ohio Counties
I've assigned a dozen counties to the central Ohio label. Forgive me if I've got a county in a wrong region. It's hard to figure where the dividing lines should be.
Ashland County
Delaware County
Franklin County
Guernsey County
Knox County
Licking County
Logan County
Marion County
Madison County
Morrow County
Richland County
Union County
Northwest Ohio Counties (19)
Allen county
Auglaize County
Crawford County
Defiance County
Fulton County
Hancock County
Hardin County
Henry County
Huron County
Lucas County
Ottawa County
Paulding County
Putnam County
Sandusky County
Seneca County
Van Wert County
Williams County
Wood County
Wyandot County
Southwest Ohio Counties
I've assigned 22 counties to the southwestern region of Ohio. I've probably assigned some to the wrong region but I could not find a definitive list for all counties in my research online.
Adams County
Brown County
Butler County
Champaign County
Clark County
Clermont County
Clinton County
Darke County
Fayette County
Greene County
Hamilton County
Highland County
Mercer County
Miami County
Montgomery County
Pickaway County
Pike County
Preble County
Ross County
Scioto County
Shelby County
Warren County
-> Find a list of 20+ Ohio companies to tour or visit for field-trips here.
-> Find a list of 20+ Ohio pumpkin farms/ farms you can contact about visiting at this link.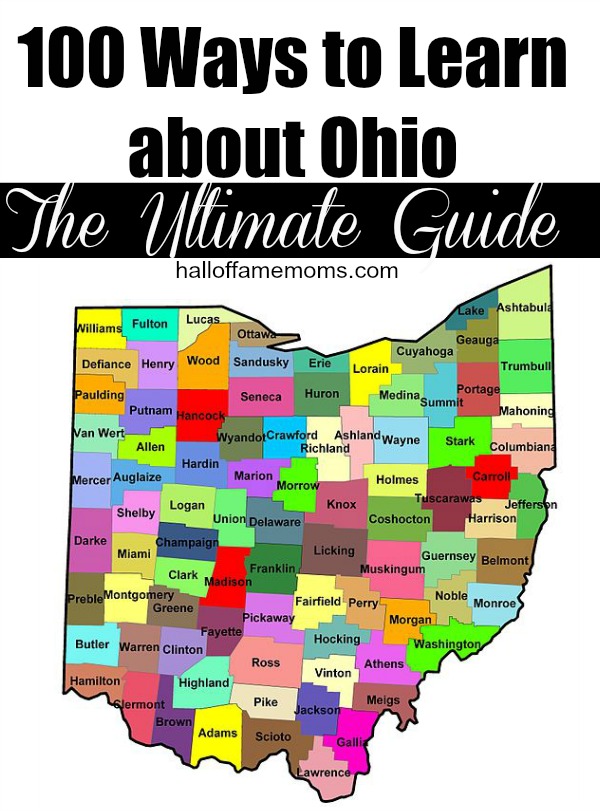 Learning about Ohio
Now that we just finished going through all 88 Ohio counties and have some places listed to visit for field trips in many of them we can look for educational resources.
-> Find some Homeschooling Groups and other resources for Homeschoolers in Ohio.
-> Follow my State of Ohio Pinterest board here to find my curated collection of resources.
Teaching Resources for Learning Ohio
What's so Great about Ohio? (book review for kids)
Meet the 8 Presidents from Ohio
7 Free (at time of post) Kindle Books about Ohio Stories, Slaves, Mounds and more.
Ohio Black History: Interviews with Former Slaves
18 Things Ohio is Credited with doing First
Use your local library.
Search for free printables and low cost printable unit studies online or make your own!
Creative Tips for Studying Ohio History
If you find textbooks *sigh b-o-r-i-n-g you will enjoy the following tips for making the study of the history of Ohio, and just about anything else, helpful! We've already covered the obvious field-trip option of visiting museums for learning as well as some other resources. Let's look at some hands-on creative ways to learn about Ohio.
Ohio Geography, Writing, History and Art:
-> Open up a map of Ohio. Mix up some salt-dough and shape the state of Ohio. Go ahead and carve out any rivers, highways or county lines you are studying. Let it dry and then paint!
-> Create a diorama of some scene in Ohio history you are studying. Maybe something from a battle fought in Ohio.
-> Create a mixed media project showing three dimensions like the hills of Ohio, water tributaries, landscape, etc.. Perhaps illustrating what 1800s Ohio would have look liked – long before the modernization of today.
-> Grab a map of Ohio and some tracing paper and learn how to draw the state of Ohio. If you want to be really challenged use a map that shows the counties and trace them and the label them!
-> Have the kids create a newspaper assigning each of them stories to write as if they were living in a past time period covering Lincoln's presidency and assassination, etc.. The newspaper could be the way they express what they learned from their research on that topic.
-> Get with some other homeschoolers and put together an Ohio History Fair, or call it something more creative. One year we joined some other homeschooling families to put together a Geography Fair. My boys picked different states and we made models of them and a food item to serve at our table as well as a display of facts and info.
-> Take your kids to a history reenactment like we did.
-> Help your child develop a list of questions to ask an older friend or family member about life growing up or their war-time experience (we did this with a friend) and set up an interview. I'm so glad I had an interest in this when I was in my teens because I remember asking my grandparents questions about our family history. I lost my grandpa not long after I "interviewed" him.
Learning about Ohio through Cooking:
-> Make these Colonial American cookie recipes and southern Ohio history here and here.
-> Mix up a batch of Buckeye candy.
-> Visit and taste some of the Ohio chocolate companies like Harry Londons and Anastasiades.
What would you add to this list? See the other 100 Things Lists from the iHN bloggers by clicking the image below. Thanks for reading and sharing your comments with me!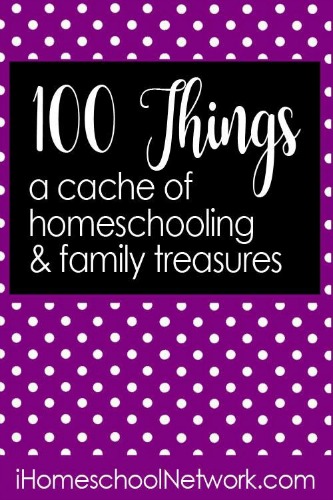 Save
Save
Save
Save
The following two tabs change content below.
Owner/Editor
at
Hall of Fame Moms
Tracy writes about homeschooling and just about anything related to family life in Ohio here on the blog. Strong honest views will surface from time to time on topics related to truth, faith and freedom. **Check out my notebooks and Bible Memory Coloring Notebook workbooks for Adults & Teens by clicking my name.
Latest posts by Tracy Zdelar (see all)